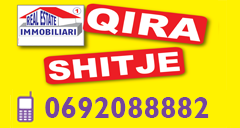 Villa house for rent, 5+2+ holl, 650 m².
- Villa for rent in Elbasani Street, near the Palace of Brigades..
- ne nje zone jashte unazes se vogel te Tiranes.
- Ne nje rruge me densitet mesatar te levizjes se njerezve dhe qark.te makinave.
- New building.
- Very good quality construction.
- Free view, no buildings nearby.
- no Furniture.
- Private garade.

City:

Tirane

Surface:

650 m²

Land surface:

500 m²

Rooms:

5

Kitchen:

2

Living room:

2

Bathroom:

3

Orientation:

South-East

Info:

3 FLOOR VILLA, TOP QUALITY WORK. 200m2 1FLOOR SERVES AS A GARAGE, PARKING PLACE, LAUNDRY,TOILET,PLAYING GAMES.2 FLOOR: 1 GUEST DINING ROOM, KITCHEN + DINING ROOM + HALL FOR FAMILIES, 2 BEDROOMS + WC + LAUNDRY ROOM, A BIG VERANDA WITH ACCESS TO THE YARD AND POOL.3 FLOOR: 3 BEDROOMS, 2 BATHROOMS AND V

Price:

2,000 Euro

Code:

QVIL5 17102
Postoje tek nje mik.
Jam i interesuar.