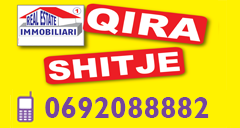 Villa house for rent, 4+1+ holl, 400 m².
- second and third floor of an ville in kont urani street, after the ministry of education.
- Center of the city, more preferabile aria of Tirana.
- Ne nje rruge me densitet mesatar te levizjes se njerezve dhe qark.te makinave.
- Existing building.
- Very good quality construction.
- Free view, no buildings nearby.
- Very good quality furniture.
- Parkimi kolektiv i ruajtur jashte objektit.
- Very good bathroom.

City:

Tirane

Surface:

400 m²

Land surface:

100 m²

Floor:

2-3 (building 3 floors)

Rooms:

4

Kitchen:

1

Living room:

1

Bathroom:

2

Orientation:

South-East

Info:

The villa is equipped with air conditioner in each room. AND on the third floor has a big living room with exit in roof

Price:

800 Euro

Code:

QVIL4 17073
Postoje tek nje mik.
Jam i interesuar.